ARCHIVE.PHP
We are . . . 25 years

Who can remember what happened 25 years ago in 1997 –

The world lost Diana, Princess of Wales, Titanic was the big film release of the year, the first Harry Potter book was published, the Labour Party swept to power, the UK won the Eurovision Song Contest with Katrina and the Waves 'Walking on Sunshine' and the Tellytubbies appeared on tv screens for the first time.

And a company called Access Point was founded.

Access Point celebrated its 25th anniversary on the 31st January 2022.

During the 25 years that followed we have been successfully helping Retailers, Landlords, Field Marketing agencies and Promoters and Traders of all shapes and sizes.

The business started off in 1997 in Hindley Business Centre, Wigan and relocated to offices in Lord Street, Southport in 2000, on the 1st floor above what is now the restaurant Bistrot Pierre. In 2015, we bought and completed our move to the beautiful Old Courthouse, which is where we are now headquarted.

Access Point has always offered support to the Retail/Hospitality and Leisure industries and for a number of years, provided Till Roll advertising services. However, delivering Commercialisation opportunities has always been the organisation's passion and is now our sole focus.

Over the 25 years, we are proud to have been associated with so many promoters and traders, from those dipping their toes into the water for the first time as they start their own business journeys, to the multi-site experiential campaigns that have successfully launched major brands and products. Many customers have been with us throughout our amazing journey and we are truly grateful for the support they have shown us.

None of what we have achieved would have been possible without the amazing employees that have worked at Access Point over the years, and I would hate to start naming individuals as they have all played their part in getting us to where we are now.

However, the last couple of years, as with most businesses, have been a real test of the Organisation's fortitude and I am proud to say that we did everything we could to support our customer base during the lock downs to ensure that they, and we, were still trading as restrictions are lifted.

And we are, and our journey continues. We are investing heavily into the company and expect to make some announcements in the near future as to how we are going to take our customer service to the next level.

We are proud to be a successful Southport based organisation – so it's only natural as a Company that we support local initiatives to give back to the community where we reside. We also aim to recruit from the local community and are currently looking for Sales Account Managers to join us on the next stage of our journey based at our beautiful Old Courthouse in Southport.

The 'changing' purpose of shopping centres?

We are living in unprecedented times. Experts are trying to predict what a post pandemic future could look like for the retail environment but then a new strain comes along and the predictions start again.

Pre-pandemic there was much talk about the changing face of the High Street, Shopping Centres and Retail Parks. Creating a mix of retail, accommodation, office space and leisure as opposed to what was previously distinct areas for each activity. Could we be going back to the future by creating communities around shopping centres, with similarities to the new towns of the 1950's and 1960's, with travel hubs to create a greener environment by reducing journey requirements.

What the planners and authorities do need to consider is that footfall always has been a priority for retailers, be it High Street or Shopping Park, and creating the right environment to attract that footfall has always helped to justify the rent.

However, post pandemic, there are other considerations and a sense of community is becoming an important factor in how Shopping Parks, in particular, are engaging with the public.

Landlords had started the journey of filling vacant space with; hospitality & leisure from restaurants to trampoline parks and escape rooms, and converting areas to living accommodation, office space and hotels. This started the process of converting the Shopping Park from retail engagements to a destination for the whole family. And, converting unused areas, has brought the public physically closer and created the feel of 'the local' – the local shop, the local pub, locking the community in.

But what can also help the sense of community is including healthcare, GP surgeries, drop-in and walk-in centres. This is nothing new and specialist healthcare/private healthcare suppliers have been based in Shopping Centres/Parks for years. However, Local Authorities could now start to take advantage of engaging the public away from the town or city centre with their own help desk and drop-in centres at Shopping Centres/Parks. During the pandemic we have seen the NHS set-up mobile test and/or vaccination centres at venues frequented by the public. A great plan that has been employed by promoters for years – engage the public where they are as opposed to expecting them to make a journey or take time out of their day. By making this type of activity permanent rather than temporary would the Authorities create a greater/easier engagement with the public? Other activities such as play groups and nurseries could also take advantage of the space and community being built and in many cases would support parents with parking spaces and being away from busy roads making it hard to pick up.

Who knows, your local MP may also see value in basing surgeries where the public are!

Including, or building in, an element of flexibility would also support the goals of the venue, ensuring something new would always be coming along through the use of pop-up shops, kiosks in the malls or inclusion of promoters and traders. This element could also support the sense of community – flu jabs in October/November, pop-up laundrette or barber, lockers for parcel delivery or sharing Council Plans.

As previously mentioned, a travel hub could also be based at the venue, and the Shopping Centre/Park could then become the epicentre of a thriving 'local' greener community that attracts further investment and engagements.

Who would have predicted this post lockdown business problem!

When the pandemic hit and the country went into lockdown, businesses (small businesses and those in retail & hospitality in particular) had to make some hard decisions in order to survive.

Those decisions were made in a vacuum, nothing like this had happened in most people's living memory, no one knew what to expect; how long lockdown would last, what would be allowed and when, what support would be available, would it be enough and what would the world look like as restrictions started to get lifted.

People, unfortunately, were made redundant as organisations tried to guess at what measures were needed to give them the best chance at survival, others were put on the furlough scheme when it became available and others, where possible, were given the wherewithal to work from home.

Those that were made redundant immediately started looking for other jobs or made the decision to start their own business. Those on furlough found they had a lot of free time on their hands and for some thoughts turned to what direction their career should take with regards to employment and working patterns that best suited the lifestyle they wanted post pandemic. And many of those given the capability of working from home found it better suited their lifestyle and looked for options that offered them this working solution.

The pandemic caused massive disruption to the UK's workforce in many sectors with a legacy of recruitment problems further down the line.

For some organisations the pandemic was the start of the perfect storm as they lost experienced employees, added to this, many non-UK workers who returned home either couldn't (Brexit) or didn't want to return back to the UK to work. And, even though there were some good things in the autumn budget, especially for Retail & Hospitality, the minimum wage increase has the ability to cause further financial headaches especially for small businesses.

Recruitment difficulties have been hitting the news as the country starts to open up again with logistics and shortage of HGV drivers being a prime example. However, there are many other sectors struggling in the background – we have seen it especially with businesses that do data collection and there are no easy answers. Employment is high compared with predictions made at the start of the pandemic and few exceptions for migrant workers are being made to cover the gaps.

Some companies are increasing their salary offers to attract candidates, taking a hit to the bottom line and in effect robbing Peter to pay Paul and putting the problem on another organisations doorstep.

Businesses could take into account the new working practices that future employees or newly established contractors want to live with. When thinking of promotional activity, by identifying the right venues for promotions, organisations can match peak footfall with employee availability and target audience.

Organisations need to, within limits, do whatever they can do to retain staff and make working patterns as attractive as possible; working around school hours and holidays, part time or shift work to fit in as a second job or work around university lectures or join the work from home/zoom meetings movement. Businesses will have tried every channel going as part of their recruitment drive – however, going direct to the public, may still be an option. And, for those that are doing data collection, when engaging the public, a secondary need could turn the conversation to recruitment if the person shows the right attitude.

Do I need a 'ground source heat pump' … I don't rightly know!

Do I need a 'ground source heat pump' . . . I don't rightly know!

The term 'ground source heat pump' sounds Jules Verne'esque to me … as if it was part of the machine taking him on the Journey to the Centre of the Earth! But it is a term that is starting to smack me across the face as it starts to get mentioned more and more.

I was recently buying a new replacement boiler and as part of researching which one to buy, bits and pieces mentioning ground source heat pumps started to appear. Apparently the UK is moving away from gas boilers and as of 2025 renewable heating systems will be used in all new build homes. As much as I would have liked to move to a renewable heating system I had too many questions I couldn't find the answers to and it looked like the cost of installing the new system was well outside my budget. Did I want a vertical or horizontal system? was my back garden big enough to produce enough heat? How much space did I need in the house? Could my back garden run out of heat? (apparently it can temporarily?) what happens if it does? How easy are they to install in a 60's built house? Will my back garden be destroyed? How often do they need to be replaced? And, will the money I save on heating bills ever outweigh the cost of installation?

Unfortunately there were too many unanswered questions and too much cost – I went with a highly efficient condensing boiler. Since getting my boiler fitted I have stumbled across a few answers (which may or may not be correct) – you need 40m x 12m of land to install the pipes or the ability to have a 60 – 200m bore hole drilled, the 'unit' is about the size of a fridge-freezer, the system lasts about 20 years, cost £12,000 to £25,000 and I would have had to spend money on insulating the house to make the system efficient. I know now I couldn't have fitted a ground source heat pump

However, I did go on a guilt trip – for me, Climate Change became real this year and with kids and grandkids I want to do as much as I can to ensure there is still a planet worth living on in years to come. The UK is committed to reducing emissions to zero by 2050 and phasing out the use of fossil fuels is an important part of that commitment.

There is a Government grant to support renewal of heating systems (RHI) which ends March 2022. The new Government initiative (Heat and Buildings Strategy) starts April 2022; there is a pot of £450m and they are giving grants of £5,000 to install heat pumps (air or ground) to make the cost competitive/similar to installing a new gas boiler. The fund will provide grants for 90,000 installations.

The public are seeing record breaking temperatures around the globe, forest fires destroying vast swathes of land, floods and weird weather patterns. And, if like me, people are open to conversations about how we can do our bit.

If ever there was a time and place for an industry to step up and engage the public it is now. If someone from the industry had spoken to me and answered the questions I had it is quite possible I could have made my decision based on facts instead of "I don't know what I don't know"

Yes, there is information on the internet but it isn't in one easy place to find – or it wasn't for me! And there are other systems which when thrown into the mix make it all a little more confusing – biomass, air source heat pumps, solar panels, etc – do you need to mix and match?

And then you spot something saying the government is looking at Hydrogen for heating and the research should be concluded by 2026!

This could be the time and opportunity for the green industries to hit the promotion trail and get engaged with the public.

Introducing Liverpool Shopping Park

Liverpool Shopping Park appoints Access Point as commercialisation partner

Liverpool Shopping Park has appointed Southport-based Access Point as their exclusive commercialisation agents.

Liverpool Shopping Park is located on Edge Lane – one of the major gateways into the city centre – and is home to high profile brands including Next, M&S Food Hall, River Island and H&M as well as the world's largest Liver Bird.

As commercialisation agents, Access Point will help to attract additional kiosk-based vendors such as barbers, street food retailers and coffee vendors to trade from Liverpool Shopping Park's public areas, pavements and 1500-space car park.

David Robertshaw, ceo, Access Point said: "We are delighted to be working with Liverpool Shopping Park especially at this stage in its development. Already the largest shopping park in Liverpool, it is a fantastic venue for local, national and global brands to promote their services to the people of this amazing city."

Peter Gilliland, Head of Property Management at The Derwent Group, which owns Liverpool Shopping Park, said: "We've appointed Access Point as our commercialisation partner to help enhance the customer experience and increase dwell time. Their expertise and support will be instrumental in bringing the right traders and opportunities to the park and complementing the strong retail and leisure brands we already have on offer."

About Access Point
Established in 1997, Access Point are a specialist in delivering proven commercialisation and advertising opportunities for venues and companies wishing to capitalise on their assets, increase their brand awareness, generate leads and drive consumers to their business.

For additional comment please contact:
John McKnight – Marketing Manager e: John.McKnight@apuk.net  t: 01704 544999

About Liverpool Shopping Park and The Derwent Group
Liverpool Shopping Park opened in October 2017 and includes high profile brands including Next, M&S Food Hall, River Island, H&M, Chiquito, TK Maxx and Smyths Toys.

Liverpool Shopping Park is owned by The Derwent Group, which is part of the Albert Gubay Charitable Foundation and operates in the retail, leisure, industrial and commercial sectors.   The group's retail portfolio extends to 1.74m sq ft across nine retail parks in the north of England.  Through The Albert Gubay Charitable Foundation, The Derwent Group generates grants to charitable causes in excess of £10 million per annum.

For more media information contact Helen at Plume PR on 07463 757740 or helen@plumepr.co.uk

All I want for Christmas is . . . something . . . please!

The UK could be facing the perfect storm, on the lead up to Christmas, created by the delayed effects of Brexit and continuing problems caused by the pandemic.

Shelves have noticeably been short of certain goods – shortages of raw materials (steel and timber) and output from China, a global chip shortage affecting manufacture of goods from games to cars and a lack of shipping containers (apparently they are in the wrong place) are causing delays and costs are going up.

Even if the goods can be landed into the UK the shortage of lorry drivers is causing a logistical nightmare. Organisations are struggling to recruit staff with many offering signing on bonuses – but this is only robbing Peter to pay Paul leaving the problem on another organisation's doorstep.

We have even had McDonalds removing milk shake from its menu and Nando's shutting stores because of the lack of chicken wings hitting the news headlines! There may even be a shortage of turkeys for Christmas day!

The Government are trying to help, the border checks to be introduced following Brexit on certain goods have been put back to 2022. And by easing driver qualification requirements and extending driving hours they are trying to sort the UK logistics problems caused by drivers not being able to take tests during lockdown and more drivers leaving the profession than joining.

However, there still appears to be a shortfall in the immediate future and this could cause problems leading up to Christmas.

Ordering as early as possible and insisting on guaranteed delivery is what most traders will have done/will be doing. But, looking at alternative sources, particularly local manufacturers may be the solution to the problem.

If delivery from abroad cannot be guaranteed or prices are hiked then sourcing locally may become an option and hopefully a cost effective one. And, if the manufacturer has their own means of shipping or the trader can pick up from the factory it would negate any UK logistics problems.

As usual, the never say die attitude of our small businesses, in particular, will prevail and solutions will be found.

Christmas could still be a success – and I will get my usual surprise present of a pair of socks – and for that, as usual, I will be grateful.

Changing Times, Time for Change

The pandemic has changed the world so much since March 2020 and for many people, from a business perspective, changing times meant time for change.

One of the greatest shifts has been in how people work. Many organisations were able to create or adapt to new working practices and allow their employees to work from home. As we start to come out of the various lockdowns many people are still working from home as businesses and employers have recognised the benefits of this way of working.

If working from home was not an option then the Government furlough scheme kicked in and has saved many businesses and jobs. However, especially when the furlough scheme was introduced, many self employed were not included and had to look at other options to earn a living – especially those from the entertainment, events and hospitality industries.

Mark Bowman worked in the entertainment industry and with no support forthcoming had to evaluate his options and decided to start his own mobile catering business.

It can be daunting starting a new business in a new sector and knowing where to turn to for information and support can sometimes be very difficult. Mark turned to Access Point and we are pleased to say he is making a success of his new business.

Access Point received this testimonial and we are sharing it to inspire others to make that change.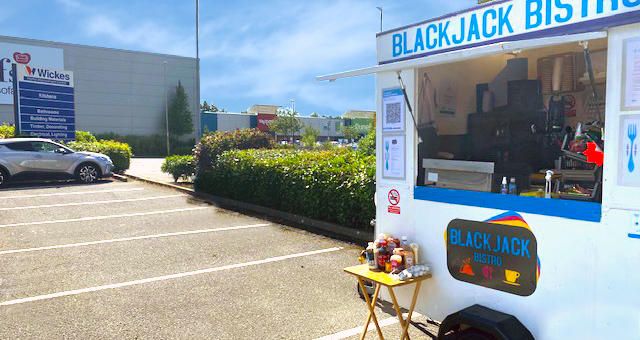 Name: Mark Bowman
Business: Blackjack Bistro

"During 2020, My business in Events, Theatre Education & Entertainment was closed within a few days. I was devastated and in despair.
However, I decided to make the most of the government help, and I purchased a catering trailer!

As a newbie, I was so grateful to Marc at APUK for providing such personalised support, kindness, professionalism and something we all need more of during this time, empathy! Marc ensured the whole process was as smooth as possible, and did everything he could to ensure I was up and running ASAP. From speaking to the store manager on site, to liaising with the council, there was nothing that Marc wasn't prepared to assist with, so I could start my business. I feel extremely supported, and I know if I need anything at all, APUK will do whatever they can to help. If you have the opportunity to work with APUK, take it! Not only are APUK professionals in their field, they're lovely human-beings too!"

For anyone not able to go back to their previous profession or believe it is now time for a change in career and are thinking of a move into mobile catering, then please contact Access Point.

If you need some help we also have a number of 'How to … Guides' which provide information on how to start your journey and requirements along the way – they can be found here.

Trading to Support Customers

Company: Bandido Burrito

Bandido Burritos, owned by Greg Howells, is a mobile catering unit based in Swindon. When the lockdown started Greg made the decision that he needed to support his loyal customer base during the situation, a decision that has been greatly appreciated.

Why Bandido Burrito

Having been trained by two Mexican chefs Greg specialised in Mexican food for over 6 years before taking a career change of direction. However, the passion for Mexican food was always there and Greg spotted a gap in the market for good, high quality Mexican food. 

Now, with a 14ft trailer Greg has a permanent base in Swindon and is in demand for parties, weddings and events.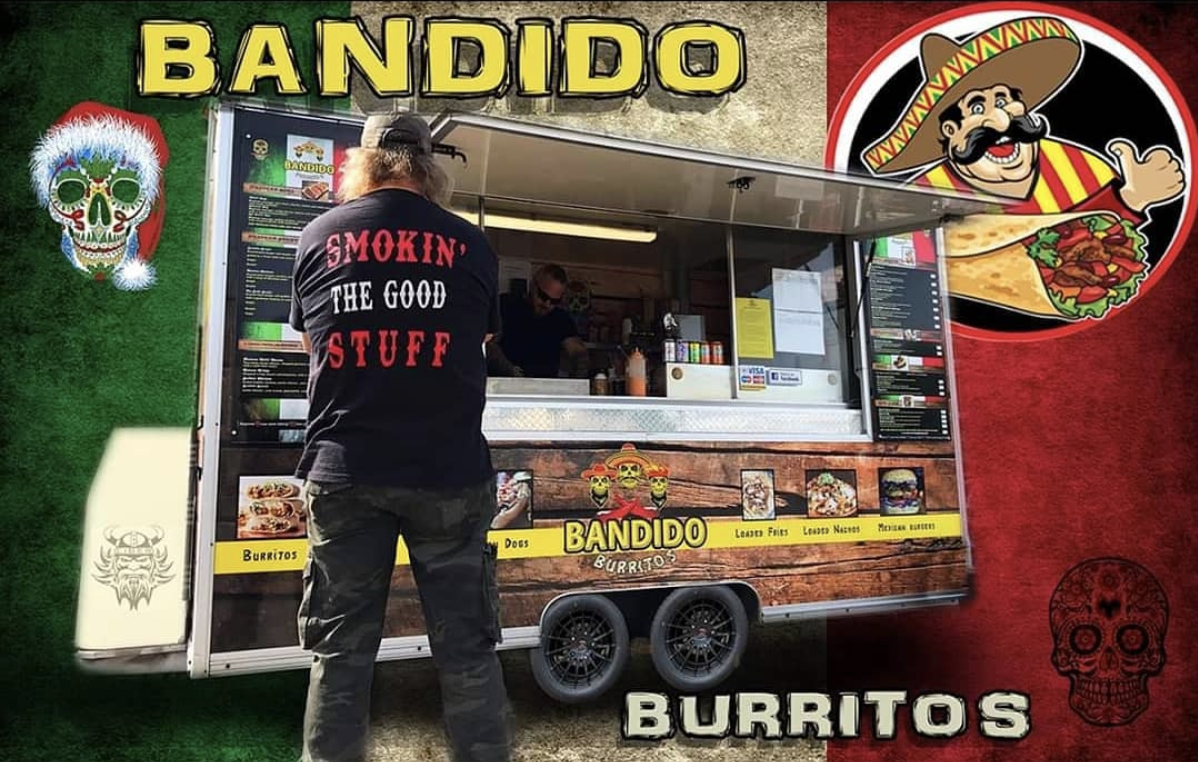 "I wanted to show the key workers I appreciate them for the fantastic work they are doing"
How has business been since March
Amongst Bandido Burritos many customers are members of the Police force, the NHS, delivery drivers and other key workers who are keeping the country going, The decision to carry on trading was made so as to provide support to this workforce. Greg's customers had been loyal and supported him since he started the business and he believed it was time that he returned that backing.
Many fast food outlets, national and independent, had made the decision to close during the situation and with many people doing on-line retail with home delivery there were more key workers on the road with less options for sustenance.
Business has increased since the lockdown and Greg believes that will continue to be the case, through customer loyalty, as others start to open up again.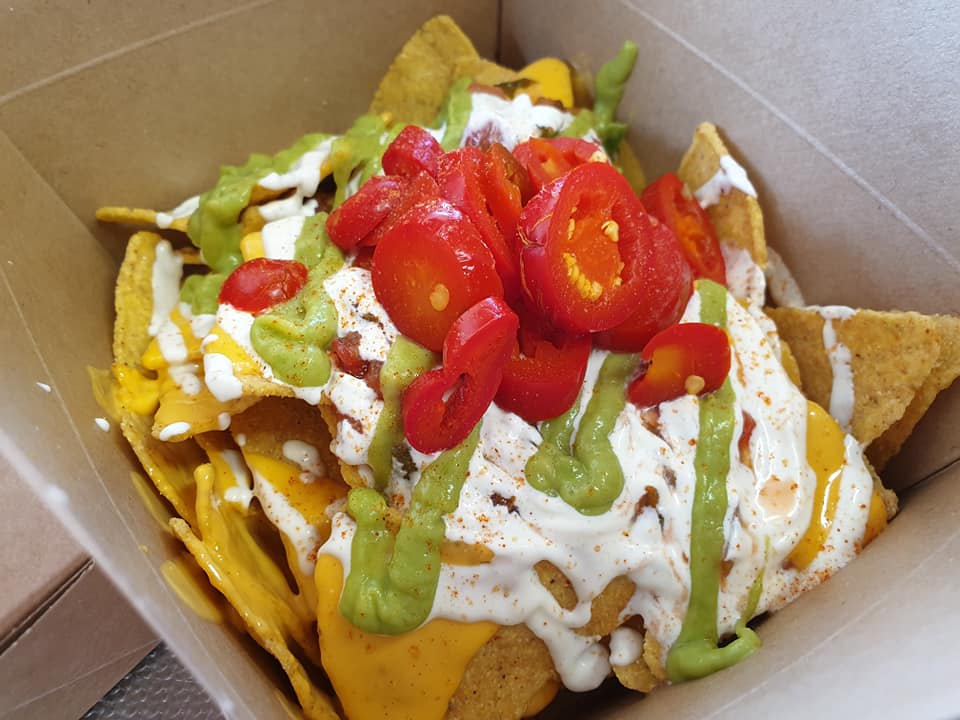 "Social media and especially reviews are extremely important to shaping the business, that's why we respond to every review"
Is the business changing?
Greg wanted to be there to support the key workers, so not only has he remained open he is also offering all key workers a 25% discount on their bill as a way of showing his appreciation for what they are doing.
Bandido Burritos is also offering a delivery service, which has proven to be so popular that the service will continue as things head back to normal, whatever that may look like. Currently there are 3 delivery drivers on-board to support the growing service.
Maintaining standards and social distancing
The business was contacted by Environmental Health to check if it was continuing to trade and measures were being implemented to ensure social distancing and health and hygiene factors.
Customers are asked to pre-order and then remain in their vehicle until they are informed their order is ready with the team working through the queue by registration plates.
Social distancing of 2m is maintained around the unit at all times. Payment is contactless whenever possible (especially on deliveries), if not, then customers are asked to pay the exact amount, the money is sanitised and transferred in sanitised bags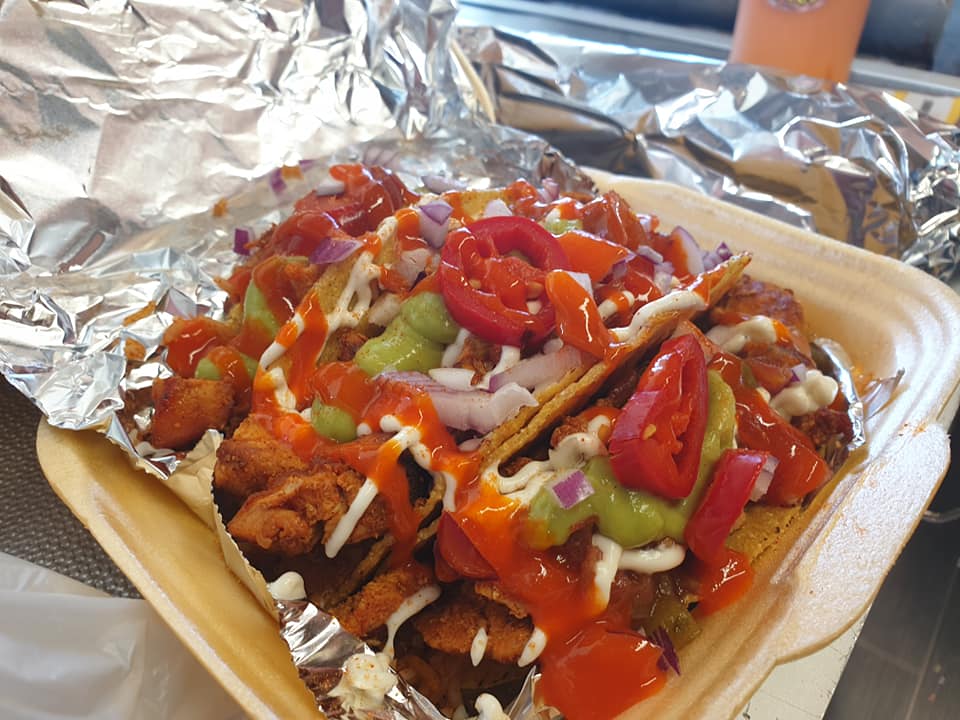 "There was a gap in the market for high quality Mexican food"

Appreciation and loyalty are key

As the current situation started to unfold Greg put up a poster asking his customers what they wanted and he has been delivering against that feedback.

Showing support for the key workers has been key and being there for them as they have been there for the population of the UK. Creating the delivery service was important to support those that are housebound during the situation or where just too tired after putting in a long shift.

Appreciating customers and creating loyalty has been the most important element of Bandido Burritos business strategy. Reviews are important to the business and each one is responded to. Bandido Burritos has received nothing below 5* reviews on TripAdvisor and Facebook and maintains over 7,000 followers on social media

Listening to customers has also helped Greg with the menu especially in providing quality food for the growing numbers of vegetarians and vegans.

What comes next?

Bandido Burritos is looking to create a mobile restaurant in the shape of a double decker bus, the current situation has put plans on hold, but when ready it should be an amazing addition for catering the events scene. 

The delivery service has proven to be popular and looks to be a mainstay of the business certainly for the foreseeable future.

You can follow the Bandido Burritos story on Instagram and Facebook.

Why Creating Communities around Shopping Centres is Good Business

I recently read a great piece in Retail Week by Intu on 'why creating communities around shopping centres is good business'. As someone who grew up in Merseyside when Kirkby, Skelmersdale and Runcorn were still known as 'new towns', the piece reminded me of the way many of the post war new towns, which also include Telford, Livingstone and Milton Keynes, were constructed.

There were good social reasons for building these new towns around the country and the way they were designed is particularly interesting. Unlike 'older' towns, where the high street was historically at the centre of the community, the new towns I am familiar with have no real high street at all. Instead, they were created with a purpose built town (retail) centre, shopping centre or shopping parade, as part of the wider plan to serve the community.

In some ways, the Retail Week article suggests that future developments should adopt a similar concept, only this time starting with the retail centre and then creating the community around it – a little bit like 'Field of Dreams' – 'build it and they will come'! If the land or space is available, the shortcomings of what has gone before can be addressed by ensuring leisure is a big part of what is being constructed. As long as the elements required to create a sense of purpose for the community are present, people will continually be attracted to 'the centre'.

As people are becoming more aware of their impact on the environment, cutting out the need to travel great distances to shop will certainly benefit all. In fact, the retail centre of the community could also be the transport hub with links being built for the transport connections of the future. In some ways, there could be a complete reversal to the out of town shopping centres as travel impact starts to outweigh travel costs. However, the out of town shopping centres could become the seeds for these communities to grow.

The idea of re-shaping what has gone before lends itself to the New Urbanism movement, which is particularly popular in the USA.

New Urbanism is a planning and development approach based on the principles of how cities and towns had been built for the last several centuries: walkable blocks and streets, housing and shopping in close proximity and accessible public spaces. In other words: New Urbanism focuses on human-scaled urban design.

*Taken from CNU (Congress for New Urbanism)

In some ways, Liverpool ONE could be seen as following this path, a new retail centre in the city, inclusive of leisure and residential. Similar developments are also common in other cities and Hammerson has plans to re-develop Birmingham's Martineau Galleries site into a new city centre neighbourhood, based around the new HS2 terminal.

There are several ways of looking at the best path to creating the (retail) communities of the future, whether building around a retail centre or re-developing the space where a community already exists. Either way, it is vital to protect the future of these hubs by building in reasons for involvement across leisure and community activities and transport (or reducing transport).

As someone who works for an organisation that supports the retail industry with commercialisation, I believe that having a space for pop-up activities is key when it comes to creating a sense of public involvement and engagement.

A retail centre with pop-up space remains fresh and exciting, continuously allowing the public access to new experiences and making way for promotional events and experiential activities. Going back to the future with dedicated space for traditional style markets, whether weekly or seasonal, can really help attract shoppers, while also supporting local businesses. If developers can learn from the 'new towns' of the past, I will be very optimistic about what's in store for the future.

Are Shopping Destinations Helping to Drive the Future of Car Retail?

Research suggests that female car buyers aren't attracted to car dealerships, while younger drivers confess to finding car showrooms intimidating. As car brands start to experiment with alternatives to the traditional dealership, a new breed of car retail stores could soon be as much a fixture at your local shopping centre as John Lewis and Marks and Spencer. 

In the last few years, SEAT, Hyundai and Jaguar Land Rover have all launched car retail stores at major shopping centres, while Ford's five-car store dealership shares retail space with the Next store at Manchester's Arndale Centre.

As far as car retailers are concerned, the benefits of being in a retail environment are huge. Retail and leisure destinations attract a very different demographic to car dealerships, allowing car retailers to engage with potential new customers who may not have previously considered the brand. By securing promotional opportunities at areas of high footfall such as shopping centres, retail parks, supermarket and garden centre car parks, car retailers can speak directly to consumers while they are already in shopping mode.

The retail environment is much more informal than a car dealership and many shopping destinations also have longer trading hours, making car brands much more accessible for consumers.  

Our experience of securing promotional opportunities for car brands at shopping centres, retail parks and large multiple retailers confirms that the trend for pop-up showrooms at prime retail sites is set to grow even further over the next few years.

As landlords become increasingly willing to agree flexible terms in order to fill the gaps left by the changing retail landscape, retail destinations are becoming more accessible than ever to automotive brands. It's easy to see why these mutually beneficial partnerships are proving so successful – with automotive brands offering diversity to shopping venues by adding to the broad mix of tenants and car retailers reaping the benefits of guaranteed footfall.  

By bringing new experiences that genuinely appeal to shoppers, instead of adopting what some may see as the hard sell approach, automotive brands are able to get closer to potential customers in a relaxed environment.

Shopping destinations can benefit too as interactive activities and pop-up showrooms help to enhance the visitor experience, increasing dwell time and boost overall performance.  

Porsche, for example, created a pop-up store at the Westgate shopping centre in Oxford to help launch its 'Drive a Porsche' initiative. While the store was not designed to sell cars direct to customers, it did have a selection of models on display to show shoppers how easily a Porsche could fit into their lifestyle. The store also offered a unique AR experience and a range of merchandise, as well as an opportunity to experience driving a Porsche for the weekend.

While there is still a place for the traditional automotive retail model of driving consumers into a car dealership, it's encouraging to see the industry is moving with the times, exploring innovative ways to attract new customers. Car retailers who have already seen the value of marketing activities at retail parks or the local Morrisons car park are likely to take future engagement strategies a step further by securing an even stronger presence within the retail environment.     

As a business that works with both retail venues and car dealerships to facilitate marketing and promotional activities which are mutually beneficial, we predict that many more car brands will be popping up at our favourite shopping destinations in the future. So, if you've ever been shopping for a pair of shoes and gone home with a whole new outfit, you may well just end up buying the car to go with it as well next time.