ARCHIVE.PHP
Access Point Wins Emery Gate Brief

ACCESS POINT WINS EMERY GATE SHOPPING CENTRE, CHIPPENHAM, BRIEF

Access Point has been appointed as the commercialisation partner for Emery Gate Shopping Centre, Chippenham.

Situated in the centre of the town, Tesco, Sports Direct, and Peacocks are just a few of the fantastic stores that can be found in Emery Gate.

Access Point has been entrusted with maximising the retail centre's earning potential as part of the commercialisation brief. We will bring in the ideal combination of brands and promotional partners to appeal to consumers in the catchment region.

David Robertshaw, CEO at Access Point, said: "The main entrance of Emery Gate connects immediately to the high street, providing tremendous opportunity for local and national companies to engage the buying public in the centre of Chippenham town centre. This will be a great partnership, and we are excited about building a relationship with the centre and delivering the commercialisation plan."

"Enhancing the visitor experience is a crucial component of our mandate. We are prepared to get things going right away. We plan to bring partners onboard who will strengthen the diverse mix of independent and high street businesses already present at the centre."

In addition, the specialist commercialisation firm works with several retail and leisure destinations across the country, including Sailmakers Ipswich, Putney Exchange, Dalton Park Outlet Shopping and Princes Quay Shopping Centre in Hull.

Find out more about Access Point at www.apuk.net or visit the Emery Gate Media Sheet

 For further media information or images, contact Richard Hayden at 01704 544999 or richard@apuk.net. 

Changing Times, Time for Change

The pandemic has changed the world so much since March 2020 and for many people, from a business perspective, changing times meant time for change.

One of the greatest shifts has been in how people work. Many organisations were able to create or adapt to new working practices and allow their employees to work from home. As we start to come out of the various lockdowns many people are still working from home as businesses and employers have recognised the benefits of this way of working.

If working from home was not an option then the Government furlough scheme kicked in and has saved many businesses and jobs. However, especially when the furlough scheme was introduced, many self employed were not included and had to look at other options to earn a living – especially those from the entertainment, events and hospitality industries.

Mark Bowman worked in the entertainment industry and with no support forthcoming had to evaluate his options and decided to start his own mobile catering business.

It can be daunting starting a new business in a new sector and knowing where to turn to for information and support can sometimes be very difficult. Mark turned to Access Point and we are pleased to say he is making a success of his new business.

Access Point received this testimonial and we are sharing it to inspire others to make that change.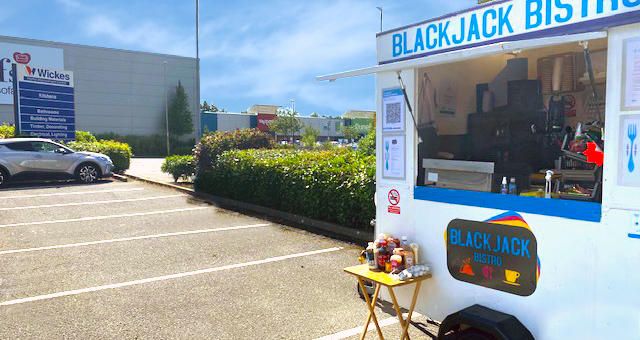 Name: Mark Bowman
Business: Blackjack Bistro

"During 2020, My business in Events, Theatre Education & Entertainment was closed within a few days. I was devastated and in despair.
However, I decided to make the most of the government help, and I purchased a catering trailer!

As a newbie, I was so grateful to Marc at APUK for providing such personalised support, kindness, professionalism and something we all need more of during this time, empathy! Marc ensured the whole process was as smooth as possible, and did everything he could to ensure I was up and running ASAP. From speaking to the store manager on site, to liaising with the council, there was nothing that Marc wasn't prepared to assist with, so I could start my business. I feel extremely supported, and I know if I need anything at all, APUK will do whatever they can to help. If you have the opportunity to work with APUK, take it! Not only are APUK professionals in their field, they're lovely human-beings too!"

For anyone not able to go back to their previous profession or believe it is now time for a change in career and are thinking of a move into mobile catering, then please contact Access Point.

If you need some help we also have a number of 'How to … Guides' which provide information on how to start your journey and requirements along the way – they can be found here.

Trading to Support Customers

Company: Bandido Burrito

Bandido Burritos, owned by Greg Howells, is a mobile catering unit based in Swindon. When the lockdown started Greg made the decision that he needed to support his loyal customer base during the situation, a decision that has been greatly appreciated.

Why Bandido Burrito

Having been trained by two Mexican chefs Greg specialised in Mexican food for over 6 years before taking a career change of direction. However, the passion for Mexican food was always there and Greg spotted a gap in the market for good, high quality Mexican food. 

Now, with a 14ft trailer Greg has a permanent base in Swindon and is in demand for parties, weddings and events.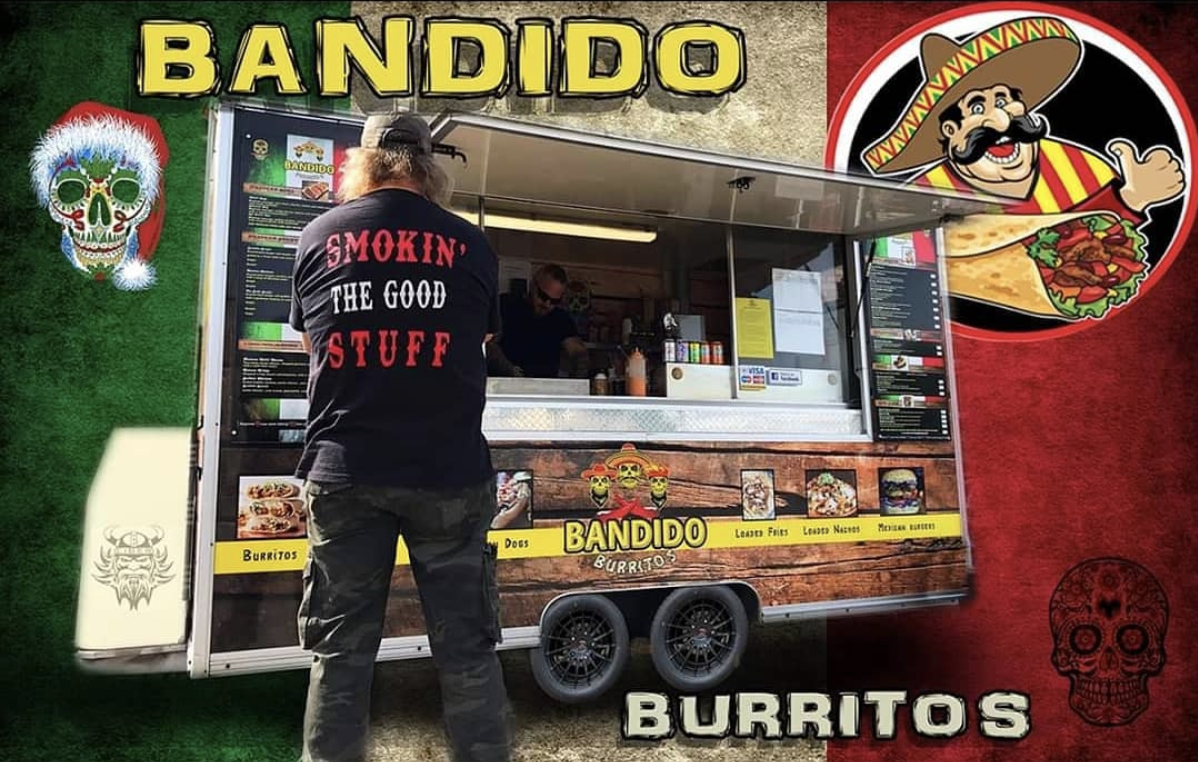 "I wanted to show the key workers I appreciate them for the fantastic work they are doing"
How has business been since March
Amongst Bandido Burritos many customers are members of the Police force, the NHS, delivery drivers and other key workers who are keeping the country going, The decision to carry on trading was made so as to provide support to this workforce. Greg's customers had been loyal and supported him since he started the business and he believed it was time that he returned that backing.
Many fast food outlets, national and independent, had made the decision to close during the situation and with many people doing on-line retail with home delivery there were more key workers on the road with less options for sustenance.
Business has increased since the lockdown and Greg believes that will continue to be the case, through customer loyalty, as others start to open up again.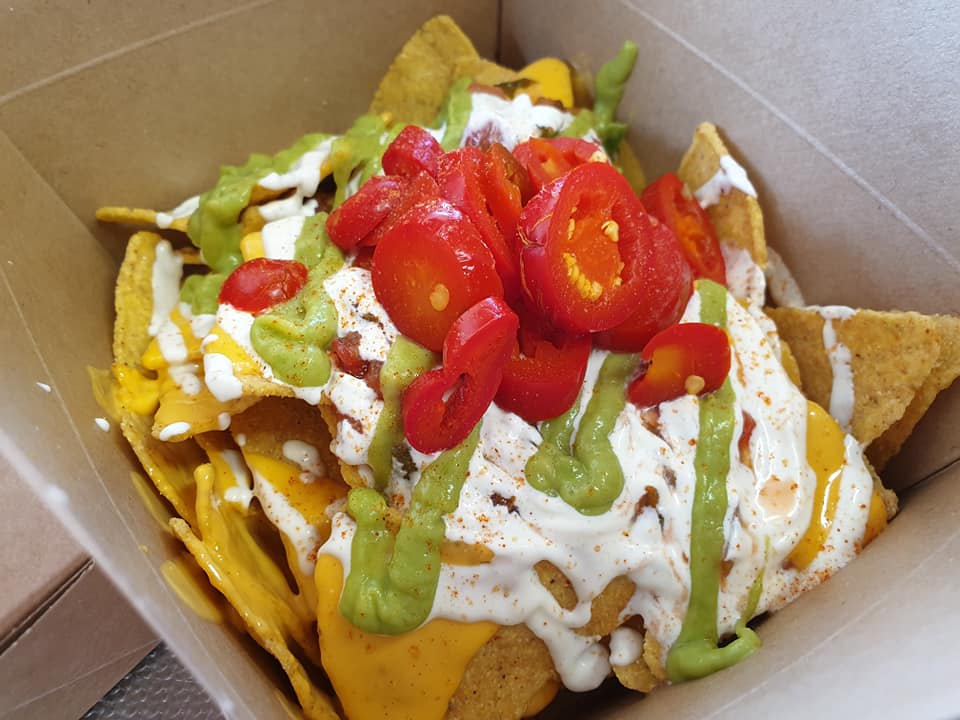 "Social media and especially reviews are extremely important to shaping the business, that's why we respond to every review"
Is the business changing?
Greg wanted to be there to support the key workers, so not only has he remained open he is also offering all key workers a 25% discount on their bill as a way of showing his appreciation for what they are doing.
Bandido Burritos is also offering a delivery service, which has proven to be so popular that the service will continue as things head back to normal, whatever that may look like. Currently there are 3 delivery drivers on-board to support the growing service.
Maintaining standards and social distancing
The business was contacted by Environmental Health to check if it was continuing to trade and measures were being implemented to ensure social distancing and health and hygiene factors.
Customers are asked to pre-order and then remain in their vehicle until they are informed their order is ready with the team working through the queue by registration plates.
Social distancing of 2m is maintained around the unit at all times. Payment is contactless whenever possible (especially on deliveries), if not, then customers are asked to pay the exact amount, the money is sanitised and transferred in sanitised bags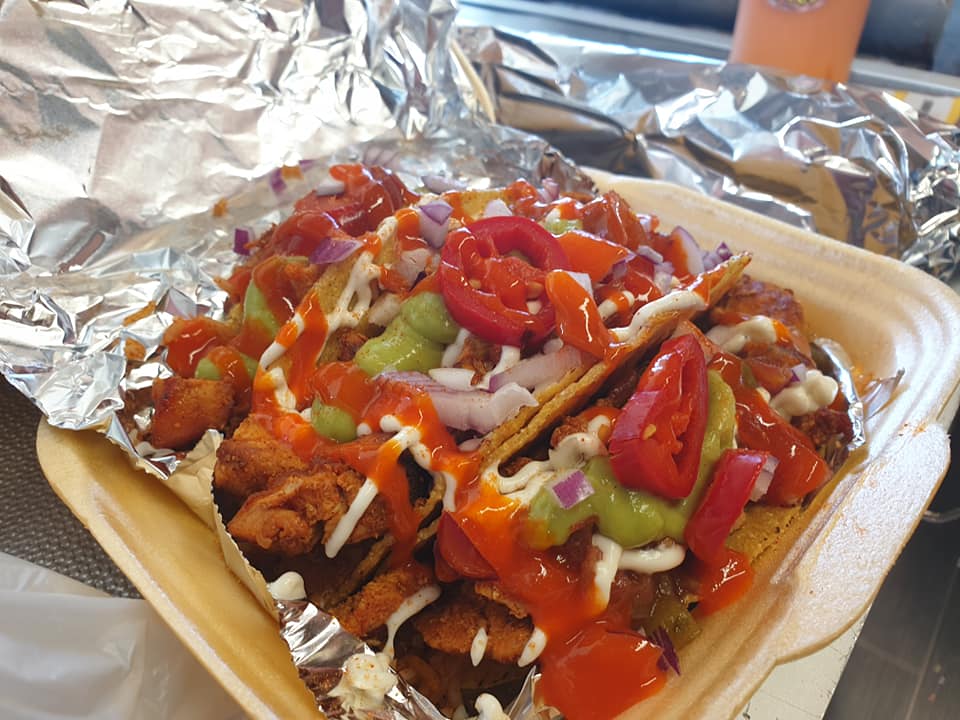 "There was a gap in the market for high quality Mexican food"

Appreciation and loyalty are key

As the current situation started to unfold Greg put up a poster asking his customers what they wanted and he has been delivering against that feedback.

Showing support for the key workers has been key and being there for them as they have been there for the population of the UK. Creating the delivery service was important to support those that are housebound during the situation or where just too tired after putting in a long shift.

Appreciating customers and creating loyalty has been the most important element of Bandido Burritos business strategy. Reviews are important to the business and each one is responded to. Bandido Burritos has received nothing below 5* reviews on TripAdvisor and Facebook and maintains over 7,000 followers on social media

Listening to customers has also helped Greg with the menu especially in providing quality food for the growing numbers of vegetarians and vegans.

What comes next?

Bandido Burritos is looking to create a mobile restaurant in the shape of a double decker bus, the current situation has put plans on hold, but when ready it should be an amazing addition for catering the events scene. 

The delivery service has proven to be popular and looks to be a mainstay of the business certainly for the foreseeable future.

You can follow the Bandido Burritos story on Instagram and Facebook.

Are Shopping Destinations Helping to Drive the Future of Car Retail?

Research suggests that female car buyers aren't attracted to car dealerships, while younger drivers confess to finding car showrooms intimidating. As car brands start to experiment with alternatives to the traditional dealership, a new breed of car retail stores could soon be as much a fixture at your local shopping centre as John Lewis and Marks and Spencer. 

In the last few years, SEAT, Hyundai and Jaguar Land Rover have all launched car retail stores at major shopping centres, while Ford's five-car store dealership shares retail space with the Next store at Manchester's Arndale Centre.

As far as car retailers are concerned, the benefits of being in a retail environment are huge. Retail and leisure destinations attract a very different demographic to car dealerships, allowing car retailers to engage with potential new customers who may not have previously considered the brand. By securing promotional opportunities at areas of high footfall such as shopping centres, retail parks, supermarket and garden centre car parks, car retailers can speak directly to consumers while they are already in shopping mode.

The retail environment is much more informal than a car dealership and many shopping destinations also have longer trading hours, making car brands much more accessible for consumers.  

Our experience of securing promotional opportunities for car brands at shopping centres, retail parks and large multiple retailers confirms that the trend for pop-up showrooms at prime retail sites is set to grow even further over the next few years.

As landlords become increasingly willing to agree flexible terms in order to fill the gaps left by the changing retail landscape, retail destinations are becoming more accessible than ever to automotive brands. It's easy to see why these mutually beneficial partnerships are proving so successful – with automotive brands offering diversity to shopping venues by adding to the broad mix of tenants and car retailers reaping the benefits of guaranteed footfall.  

By bringing new experiences that genuinely appeal to shoppers, instead of adopting what some may see as the hard sell approach, automotive brands are able to get closer to potential customers in a relaxed environment.

Shopping destinations can benefit too as interactive activities and pop-up showrooms help to enhance the visitor experience, increasing dwell time and boost overall performance.  

Porsche, for example, created a pop-up store at the Westgate shopping centre in Oxford to help launch its 'Drive a Porsche' initiative. While the store was not designed to sell cars direct to customers, it did have a selection of models on display to show shoppers how easily a Porsche could fit into their lifestyle. The store also offered a unique AR experience and a range of merchandise, as well as an opportunity to experience driving a Porsche for the weekend.

While there is still a place for the traditional automotive retail model of driving consumers into a car dealership, it's encouraging to see the industry is moving with the times, exploring innovative ways to attract new customers. Car retailers who have already seen the value of marketing activities at retail parks or the local Morrisons car park are likely to take future engagement strategies a step further by securing an even stronger presence within the retail environment.     

As a business that works with both retail venues and car dealerships to facilitate marketing and promotional activities which are mutually beneficial, we predict that many more car brands will be popping up at our favourite shopping destinations in the future. So, if you've ever been shopping for a pair of shoes and gone home with a whole new outfit, you may well just end up buying the car to go with it as well next time.